Ingredients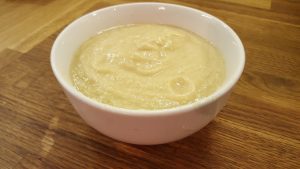 1 large cauliflower, chopped
200g chopped leeks, chopped
40g raw cashews
1.25 liters. vegetable stock
2 tbsp. olive oil
2 tbsp. garlic, chopped
1 tsp. Himalayan or sea-salt
Directions
1. Heat the oil over in a large saucepan and add the cauliflower, garlic, leeks and salt and allow to soften.
2. Add the stock to the pan and bring to the boil and then reduce to a simmer for 20 mins.
3. Remove from the heat, add the nuts and allow to cool.
4. Place in a high speed blender and blend until smooth.
5. Return the soup to the saucepan and warm through on a low heat.
6. Serve with a choice of your favourite chopped fresh herbs on top.
NOTE: This soup also makes an delicious alternative to cheese sauce in all sorts of recipes! Make a double batch and freeze down into portions and then remove from the freezer as and when you want soup of cheese sauce for the pasta, cauliflower and broccoli bakes or even in your lasagne! Mmmmmmm
For more free-from recipes check out my book Living a Life Less Toxic here.